2021/22 Wallchart
We're not going to be producing our own wallchart this season because we'd like to promote this one from Football Stadium Maps instead. It's an excellent product and cheaper than ours as well!
Each team and ground is initially hidden, so you scratch them off as you visit each one. It's a great way of keeping a visual record of your quest to visit all 92.
There are also maps for Scotland, Germany and Holland as well.
Two things to remember when you buy - please click on the ad below to place your order, and also use the 'EXT10' code to get 10% off.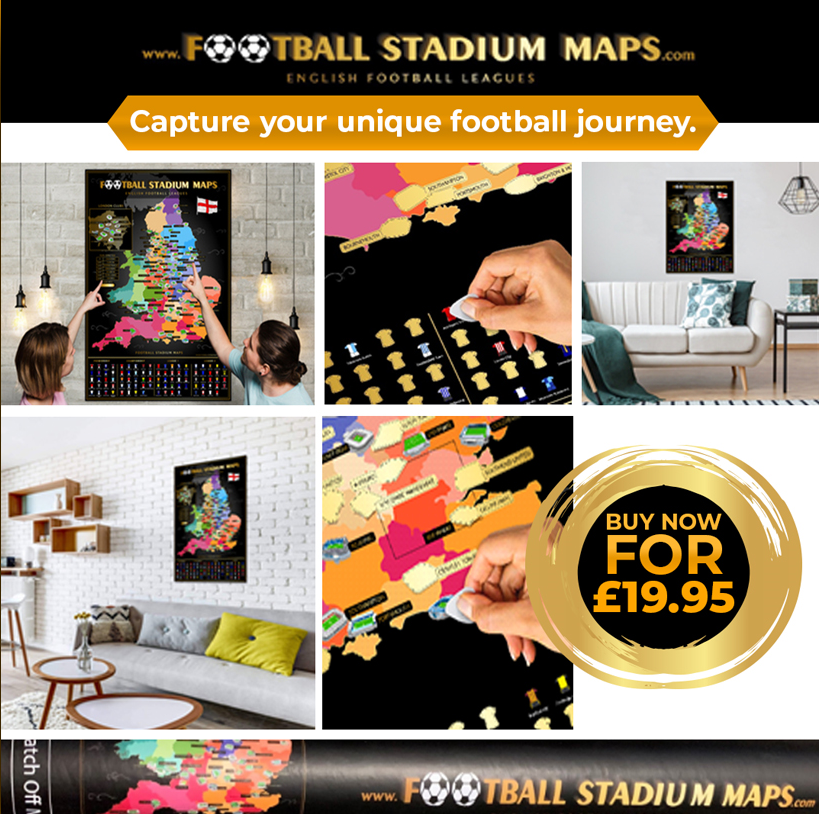 If you'd like to buy one of our wallcharts for a previous season, please get in touch because we still have a few left.



Hand-drawn kits and pointers to the location of each League ground. Also pointers to each ex-League ground that is still in use.




List of every ex-League ground that is still in use.





Boxes showing information about each League team and ground.
As with our original wallchart, this one is also styled on the popular Bartholemews maps from the 1970s and shows the location of all the current League grounds, as well as the 2019/20 home kits for each team.
You can learn more about each League team at a glance, including the year they were formed, their nickname, the name of their ground and when they first played there.
New for this season - we've gone through the grounds that are no longer part of the 92, to identify all the ones that are still being used for football, or even another sport. Each one is detailed on the wallchart, along with the seasons they were used for League football. As a bonus, each one is also marked on the map so you can easily locate them if you fancy a visit.
These maps have proved very popular over the years and the sales have helped us keep this site free to use. We really don't want to include ads on the site, so please do consider buying one as a Xmas present for that awkward football-loving Uncle or Niece!
Click on the button below to place an order. We expect the initial run to sell out quite quickly so we recommend ordering soon if you want to make sure of receiving one.
We've held the price the same for this season: the wallchart costs £20 plus £5.50 p&p.