We are very proud to announce that for 2022/23 we will be continuing our sponsorship of Hadley FC's Brickfield Lane Ground.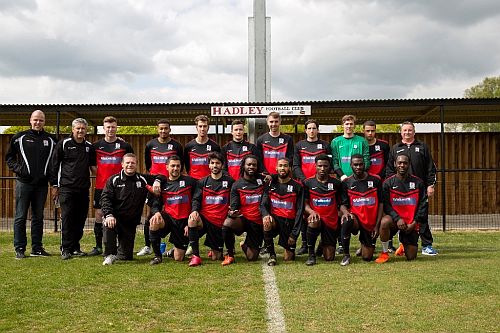 Like this site, Hadley is maintained by a loyal group of committee members and fans for no profit, and they have recently rallied round to create a ground for the team in the London Borough of Barnet. Many of them are disenchanted Barnet FC fans, who just wanted a local club to support again, and we are very pleased the fans and club were happy for us to get involved.

Hadley have transferred across to the Essex Senior League for the coming season. They have recently finished renovating their clubhouse, and the ground is now fully up to standard.

The Bricks would like to welcome all DT92 members along to see a game or two this season. We'll be holding a couple of special non-League days there, which will be a great opportunity for you to come along and meet other members, and to enjoy a bottle or two of Brick Beer. There's also the unique tennis ball challenge at half-time that's not to be missed.

So why are Doing the 92 getting involved with a team outside the 92? Well, if you've been logging your games on the site for a while there's a good chance you have a few grounds in there that are no longer part of the 92. We've noticed that the Beyond The 92 section is one of the most popular parts of the site, and many of you are enjoying getting round your local Leagues as much as you are trying to complete the 92. We feel very strongly that football at it's core needs the support of all of us, and events like the excellent Non-League Day help to keep it thriving. Getting to a couple of non-League games a season and buying a pie and a programme each time can be enough to help keep these teams afloat.

Of course this doesn't just go for Hadley - your local team probably has a similar core group of supporters who help to keep it ticking over. We just feel that this is a good opportunity to align ourselves with the grassroots of the game, and is an active way of showing our support. As the corporate circus at the other end of football makes it harder to afford or even find a ticket for a game involving the top clubs, it's refreshing to be able to turn up for a game, pay on the gate, wander round the ground, have a chat with the away fans and then have a beer afterwards with the Manager (and the players if he's not looking). There's no doubt that football at the top is now pitched as drama and theatre, but for a lot of us it is still a game and a bit of a laugh, and that is what makes our non-League clubs so special.